When it comes to getting yourself the best quality power tools and deciding what the right one for you is, things can get muddled and confusing.
Deciding on the best table saw among the many options is no different.
Maybe you're looking for one that's powerful enough to handle any type of wood or material to remodel an old home.
Or, you're looking for a portable and versatile table saw to take on the go. Or perhaps you need a precision machine for your fine woodworking business.
Whatever you're looking for it can be really hard to tell which brands are the best, what price to pay for the tools and which ones are professional quality.
Instead of wasting your time scrolling through a bunch of long, pointless table saw review videos on YouTube, use this article as a resource to show you exactly which products you can trust for your needs.
This is a list of some of the best-reviewed table saws you can find from Amazon to Home Depot, along with a breakdown of their features, upsides and downsides
Table Saw Review Buying Guide
While it might seem like you could pick up the right table saw for your needs just by walking into a big box store and picking out the first one that catches your eye, it's not that simple.
How come?
You don't want to choose a table saw based of the looks, price or brand name alone.
Yes, you'll want to take all of those factors into consideration, but it's best to include some independent research and evaluation of your needs from that machine.
Do this before you buy!
There are actually a ton of different types of table saws out there and you'll want to pick out the right saw for your needs.
Instead of scouring aimlessly through all the articles and table saw reviews on the Internet, let us bring the cream of the crop to you in a crisp, clean package you can read through and figure out exactly what you need.
Types of Table Saws
Which One Will Be the Best Table Saw for You?
Table saws come in a variety of models and styles. Let's take a look at the standard types available:
Portable Table Saws:
As their name would suggest, there are table saws that are light, portable and easy to set up and break down.
This is handy especially when doing various DIY jobs around the house or smaller handyman type jobs.
You'll have two different types to choose from, either the benchtop or job site.
Benchtop
A benchtop will usually be the smaller and lighter of the two varieties, designed for you to simply place on a workbench or other sturdy table.
Many benchtop table saws will come with lightweight legs to support the saw if a bench isn't available.
Some basic models do not come with an attachable or folding stand, so bear that in mind when evaluating smaller or cheap table saws. They typically weight between 40 and 60 pounds.
Benchtops tend to be the least expensive models with a price range under $150.
Jobsite
Jobsite table saws are designed to hit that happy medium between functionality, ruggedness and accuracy.
You can think of them as the "higher end" of the benchtop saw model.
Contractors use this type primarily, because the saw perform well enough for most work and can easily be carried site to site to wherever the work is.
They're designed for life on the go, usually coming with a foldable stand for them to be set up anywhere they might be needed around the work site.
They tend to focus on accuracy and quickness in their cuts and often have additional features like dust collection ports to keep the job site as clean as possible.
Stationary Saws:
Again, as their name would suggest, these are saws designed and specialized to be able to stay in one place.
They can be broken down into three subcategories from there – contractor saws, hybrid saws and cabinet saws.
Contractor Table Saws
Contractor saws are often used interchangeably with "job site table saws". Think of them as cousins.
They share some of the same features but have key differences as well.
They tend to have big upper table areas and usually have powerful, belt driven motors.
They also tend to be heavier, often weighing up to 300 pounds making them a lot less portable.
Cabinet Table Saws
Cabinet saws are the kings when it comes to size. They're by far the biggest around because they're encased in a cabinet-like design.
They're powerful, accurate and workhorses on any job site.
They're the cream of the crop when it comes to table saws.
Their only major downside when it comes to their form-factor is that you'll some space in your garage or workshop. They're also not easy to move, often weighing over 500 pounds.
Hybrid Table Saws
Hybrid saws are a combo of the two previously mentioned types. They give consumers a shot at some of the nicer cabinet type features, but at a much more affordable price.
They kind of hit that group who isn't quite looking for an industrial type saw but still desires something more than a small, light duty machine.
They also tend to have better fences, precise cuts and a generally larger rip capacity than some of the other types on this list.
What's Your Purpose for Using a Table Saw?
With how much technology has advanced in the last few years, we've seen the use of newer and higher tech table saws being used for all types of things.
They've become tools that a regular joe can afford, not just a heavy-duty tool that only contractors and big construction companies can use.
Let's go over some of the reasons you might be looking into buying yourself a table saw of your own.
Woodworking in a Shop
If you're considering looking into fine woodworking as a hobby or career path, you'll want to pick up your own table saw.
Table saws are often the workhorses of any shop since they can be used for some many different things and in so many versatile ways.
It's the one tool around that can do all of the ripping, cross-cutting, squaring and dado cuts you can dream of without much trouble at all.
Check out this really helpful table saw hacks in this video. They apply to woodworking primarily, but you can certainly apply to the other tops of table saw uses continued below.
And if this video doesn't get you salivating to start using your table saw for a woodworkiing project then maybe this hobby isn't quite for you!
Let's move on…
Contractor or Carpenter Use
If you see yourself as a carpenter, woodworker or contractor, one of your key investments will need to be a quality table saw.
Just like a tile saw is a key tool for contractor remodeling kitchens and bathrooms, so is the table saw as a foundational corner of any woodworking shop.
And it's just as important to someone looking to remodel a house, rebuild a deck or make a bookcase from hand.
You'll need to be able to make the cuts that only a table saw can without too much trouble, giving you the speed and versatility to fly through a cut and get back to work.
If you're working with lumber, you'll want to invest in a table saw to grind through those cuts with ease.
Home DIY Projects
Maybe you're not looking to hire a contractor to remodel that kitchen or front porch. Well, if you're looking to take on almost any type of DIY project such as remodeling or finishing the walls in your basement, you'll need to pick up a table saw for your basement or shed.
Most times, taking on a project yourself by buying the material you'll need and a table saw to cut that lumber will save you a couple of bucks and leave you with a serious sense of satisfaction.
After all, it feels good to be able to make things with your own two hands, so why not get yourself a table saw so you can take on more DIY projects for you, your family and your friends.
Most Important Features to Consider
As you review table saws, there are a few things to keep in mind. The following list covers some of the common features manufacturers have included in these products.
These features and specifications are things that anyone would want in their table saw. Get familiar with them if you're not already!
Power
You need a table saw that has the right motor and blades to be able to carve through anything put in front of it without too much trouble.
When you're looking through table saw reviews, you'll notice that a big factor they hit on is how many Amps, Horsepower and RPMs a table saw model packs.
Because when it comes to something that's used so often on construction sites, remodeling jobs and wood shops, you need it to be up to the task of handling a heavy load.
Fences
Fences are the key to the clean, crisp and accurate cuts that table saws are known for. They're used as the guide rails to hold whatever you're cutting still so that you get that super accurate cut.
Fences typically come in two different types, micro-adjustable fences and extendable rip fences.
Those micro-adjustable fences allow you to have up-to-the-millimeter control of your cuts, letting you position fences exactly where you need them most.
This is for the detail-oriented, fine woodworking professional whose work represents them.
Extendable rip fences are most typically used on job sites, letting you expand the size of the load the saw can handle.
That extendable fence is able to fit anything you need, such as cutting long furring strips. The extension capability typically allows for larger loads and more rapid cutting pace on materials.
You'll have to choose the right ones for you, your team and your job site.
Some folks like to make or upgrade the fences on their table saws. This video is one way to build a custom fence that's super smooth to slide around and locks down firmly.
Portability Options
A key feature many table saw reviews will hit on is whether a table saw is portable enough for your shop or job site.
Some options include rolling stands, mobile bases to rest the saw on while using it, extension table and built-in supports to the saw itself and dado sets.
Having a 600 pound cabinet saw on your job site might not be the best option for you but might work great in a carpenter's work space.
You'll want to pick a saw that best fits how you're going to use it.
Safety Measures
Since table saws are so powerful, we make a point in each table saw review to touch on all of the safety measures companies are taking to make sure people don't get hurt while using their saws.
All table saws will have the basic features to keep you safe during operation.
This includes a blade guard, riving knife, kickback pawls and sometimes a push-stick.
These more modern saws actually make safety components easier to use than in the past – as you review table saws, look for ones that make safety features easy…so you'll use them!
Obvious additions to the saws design over the years, like blade guards, brakes and anti-kickback protections are all pretty standard on models, including budget table saws.
They're designed to work well and are designed to make it so difficult to hurt the operator they would need to be doing something wild to be in danger.
When it comes to something that can do as much damage as a powerful, efficient table saw, consumers are lucky these numerous safety measures are in place.
Dust Collection Technology
Just like with most saws, cutting wood with a table saw tends to kick up dust in the process.
If you're working in your house or on a job site, that saw dust can get everywhere, which makes clean up super annoying and tedious.
That's why we've include in each table saw review a mention on whether or not it has built-in dust collection technology.
Some feature built-in vacuum tubes and collection receptacles to keep as much dust as possible off of the job site, home or work space you're in.
You'll often find vacuum attachment and dust-bag ports on good table saws. Some come with dust-bags, others don't. These ports don't always work 100% to cut out dust, but can be helpful most times.
Either way, it's pretty standard with most modern day table saws of all types to have some kind of feature to help with the fine sawdust.
Blade Types Used
One of the key features to keep in mind with each table saw reviewed here is the type of blade that particular model of saw uses.
After all, what good is a shiny, new saw without a good blade to cut with?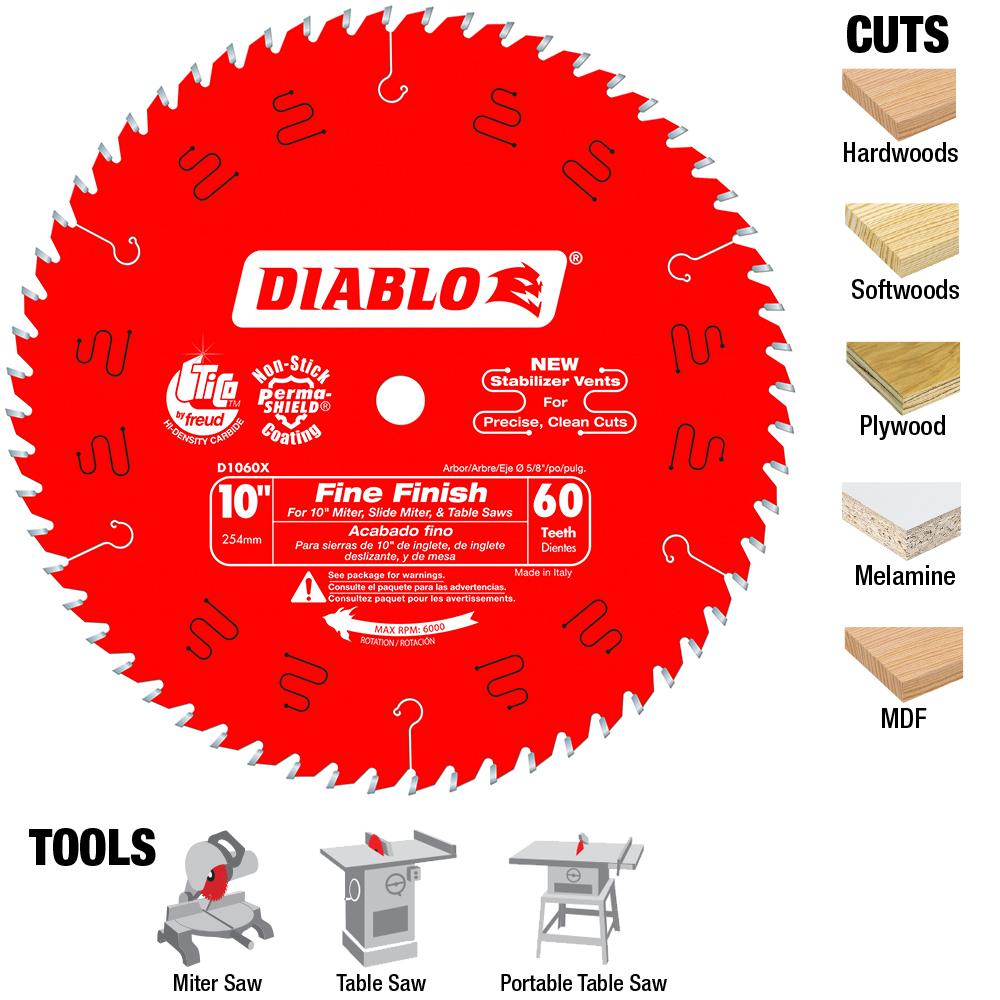 Every table saw will include at least an all-purpose starter blade.
Because blades are expensive, you won't often be impressed with this "included" blade. It'll get you going, but plan on the possibility of needing to invest in a high-quality blade for your particular work.
There are four common types of blades typically used, usually determined by their shape, teeth and grind ability.
The four are flat top bevel (FTG), alternate top bevel (ATB), combination (ATBR) and triple-chip grind (TCG).
Each one is designed to cut through particular materials in individually special ways.
Each type of blade is specially designed to handle a different thing and, often times, a good table saw can operate more than one type of blade.
While some on this list are considered to be "all-purpose" blades and others are super-specialized, you want to have a comprehensive understanding of what type of blade is best for your saw, which ones it can handle and what those types of blades are best at doing.
The important thing is to understand your saws needs before you go through the investment of grabbing one. They're usually not cheap at $25-$50 each!
Other features to think about include:
Sturdy Stand:
These days, most portable table saws come with a decent stand. Stands are usually sturdy enough for most people, but higher-grade models definitely give you a feeling of a more solid foundation as you cut.
Onboard Storage
Whether a compartment or just a shelf, it's handy for a table saw to accommodate objects like its folded up power cord, rip fence, miter gauge, blades and wrenches.
This stowing capability is useful in a portable tool you might carry around to different work locations; although not all manufacturers make this storage feature as convenient as it sounds.
Table Area Extensions:
Because this form-factor is smaller, most models have the ability to extend their deck with a right and/or left-wing fold-up extension.
This is handy when working with larger pieces of wood, as you might guess!
Blade Height Lock:
A lot of models don't have the ability to keep the blade height secure. This is a plus if you can get it, but only a minor inconvenience if it's unavailable.
Soft-Start Motor:
This is a great feature in that it provides a smooth start (to the motor and spinning blade).
This prolongs the life of the table saw motor, and reduces breaker trips. This is something you'll want to see in any table saw reviews you check out.
Top Ten Table Saw Reviews
See Best Deal:
The first entry on our list is from one of the most recognizable names in power tools, Dewalt.
There are not many companies out there that have the track record, precision and reliability of a Dewalt device.
That doesn't change at all when it comes to table saws.
Hitting that important line between functionality and portability, the Dewalt DWE7491RS Jobsite Table Saw comes fully equipped with a massive 32 ½ inch rip capacity, rack and pinion fence for fast, smooth and accurate adjustments and a powerful 15 amp motor and 4,800 RPM to shred through anything it needs to.
This is a modern, technologically advanced table saw that packs some of the key features you'll need in a quality tool for any job or involved worksite.
Cabinet installers will love it for its ability to handle filler boards. If you work with hardwood floors you'll be impressed with how easy it is to tear through floorboards. And deck builders can use this saw for any railings, caps and deck boards easily.
Carpenters can use the Dewalt DWE791RS for their mouldings and crosscutting, along with building pieces like entertainment centers and bookshelves from scratch.
And serious woodworkers looking to take on big projects can easily handle sheet material up to 4 feet by 8 feet and up to 3 inches thick.
This table saw is able to cut at up to 3-inch depth at 90 degrees and 2 ¼ inches at 45 degrees, giving you a massive range of cutting potential for any type of material.
The built-in dust port easily attaches to a vacuum cleaner for super easy clean up after a long day of cutting.
The rolling stand design adds additional stability and portability, making it incredibly easy to set up and break down.
Reviewed at 4.5 stars, this is one of the best-reviewed table saws on the whole of Amazon. Out of over 600 reviews, this excellent hybrid table saw has over 75 percent 5-star reviews, showing how much customers love this powerful and versatile saw.
See Best Deal:
Next on our list is the SKIL 3410-02 Table Saw, a saw with another known brand name that packs the power and versatility to shred through anything you need it to.
This cordless, lightweight table saw is perfect for DIY fine woodworkers, those looking to crush huge projects. And for everyone else in-between, this is an essential piece of the puzzle.
No matter what you need to do with this saw, it has the accuracy, versatility and power to get the job done.
Capable of ripping through boards of any width, cross cuts into smaller sections and any miter/bevel, this saw has some major range.
Able to give you 3 ½ inch cuts in any material, the massive 20 x 26-inch cast aluminium table gives this saw the support it needs to be as pinpoint accurate as it is.
Along with its built-in, self-aligning rip fences and EZ View measurement system, you can rely on this table saw to give you some of the most accurate cuts around.
Along with its accuracy, the SKIL 3410-02 is a workhorse machine. Packed with a 15 amp motor, 120 volts and no-load 5000 RPM, it gives you enough power to shred through any material you put in front of it.
One of the lighter and more portable saws on this list at only 67 pounds, this is a portable option you'll want when it comes to the job site.
It's also super quick and easy to set up and break down, with its special Quick-Mount feature to deploy its heavy-duty steel stand.
Along with its incredible three-year limited warranty, you'll never need to worry about this machine no matter how much you use it on the job site or around your house.
The warranty covers all SKIL consumer benchtop products, making sure you'll be good to go no matter what happens to your table saw.
One of the best-reviewed table saws, the SKIL 3410-02 is a customer favorite.
The popularity of this table saw shows how satisfied and super high-quality SKIL table saws are.
See Best Deal:
Marking the first cabinet saw on this list, the Powermatic PM1000 1791001K is a powerhouse option for those who take their table saws seriously.
For all those with fine woodworking skills, it's hard to argue there's a better option out there than this saw.
Only requiring 115V power to run, featuring its toolless guard assembly, maximizing its safety and a specially designed ergonomic 7-inch handwheel to adjust blade height and adjust your bevel, this is a user friendly saw that's perfect for anyone.
The built-in poly-V belt drive system is designed to reduce vibrations while cutting and keep those cuts accurate, and crisp and the specialized hinged motor cover gives you quick access to the inside of the cabinet itself.
It's packed with features to optimize stable, accurate cuts like the arbor lock that allows for one handed blade changes in a pinch.
Additionally, an exclusive AccuFence design provides stability and precision. A super sturdy miter gauge is capable of pivoting 60 degrees to either side. This is the table saw of choice when it comes to precision cuts.
On top of that, a specially designed collection hose was added to the machine to give an unobstructed dust collection system to keep that blade clean.
Adding to its user-friendly set-up, the numbers on the bevel scale are conveniently located and feature large, super easy to read numerals.
When it comes to table saw reviews, the Powermatic PM1000 1791001K is hard to top.
See Best Deal:
The second Dewalt entry on this list, the Dewalt DW745 table saw is a great option as a lightweight, portable hybrid table saw.
This is a fantastic option you're looking to get in, get out and make quick, super-accurate cuts.
Despite its diminutive frame, the Dewalt DW745 packs a punch with a juiced-up 15 amp motor, 3,850 RPMs and massive 20-inch rip capacity, giving you enough power to deal with any cutting challenge put in front of you.
It comes with a built-in miter gauge, a push stick and reliable blade guards. When you pair that with the super dependable 10-inch, 24-tooth carbon blade, then you shouldn't have anything bad to write in a table saw review on this product.
One of the friendliest with its users, this is a table saw that's made for quick, tool-free adjustments with its innovative Site-Pro Modular Guarding System, it's telescopic fence rails and built-in dust collection port to keep your workspace as clean as possible.
Weighing in at just about 45 pounds, this is one of the lightest weight and portable table saws on this list.
You can easily pick this saw up and move it anywhere it needs to be on your job site.
Along with its comprehensive warranty and 90-day money back guarantee, buyers have zero need to beware with a product like the Dewalt DW745.
See Best Deal:
Similar Bosch Model to consider:
The first entry on this list on wheels, the Bosch 10-Inch Worksite Table Saw brings a new dynamic cutting option to any job site.
Designed with mobility in mind, this table saw features the unique GTA47W Gravity-Rise stand for extra ease and convenience, with a single-action set-up and takedown.
Adding to its user-friendly extra mobility, the Bosch table saw features a smart guide system, anti-kickback technology and a helpful assembly barrier to allow for easy access to the blade when you need it.
Weighing only about 60 pounds, this saw is a breeze to move about whenever you need it to.
The Bosch table saw doesn't sacrifice cutting power for the sake of mobility thankfully.
This 15 amp saw, capable of delivering 4.0 max HP and 3,650 RPMs, gives you the power needed for proper rip-cutting and cross-cutting of fine materials that builders, contractors, pro-woodworker and fine woodworking professionals use every single day.
The Bosch worksite saw's big tabletop gives you plenty of room to cut, giving you up to 25 inches of space to tear through any material you put in front of it.
Along with a special SquareLock rip fence designed to increase cutting trueness and let you operate this saw with only one hand.
Designed with special anti-kickback pawls, you'll never need to worry about being injured when a kickback does actually happen.
One of the better-reviewed table saws on this list it has become popular selling saw for Bosch.
If you have a Bosch 10-Inch Worksite Table Saw on your side, you can have any job site ready to go at a moment's notice when you need it most.
See Best Deal:
For those focused on power in their table saws, the Rockwell RK7241S is the way to go, giving you a rugged and capable option when you need it most.
A fold-out fence gives you the most possible rip capacity and the ability to make extra wide cuts when you need them most.
A special detail this saw has that you won't find in many other devices around is it's one-of-kind laser.
It even features a unique laser cut line that shows exactly where the blade needs to be placed for the proper cuts. It can even be used to adjust the blade tilt, giving you even more varied cuts.
Adding to this table saw's versatility is the quick-folding stands and wheels that fully assemble into a trolly-like stand for stability in your cuts and portability around your job site.
A class-leading 30 inches of cutting capacity paired with its super portability design and cutting power, the Rockwell RK7241S Table Saw is a terrific choice.
With enough power to carve through a 4 x 4 post in just one pass and a rip capacity of 30 inches, this table saw is no slouch when it comes to hard work either. This thing can handle anything you throw it.
All of the attachments and features packed into this saw means it can give you similar results from other, more expensive table saw models.
This table saw is clearly an elite option for its price range and quality.
See Best Deal:
One of the best hybrid table saws on this list, the Grizzly G1023RL is two years of intensive testing and optimization come to life.
This model packs all of the features that long-time Grizzly table saw fans loved into a newer, more tech-friendly package.
Some key additions include the brand new riveting knife system, its serpentine-belt power that reduced dust build-up for a quicker and smoother cut and making customers able to get access to the blades when they need them most.
You're even able to quickly and easily swap between the riving knife and shatter guard, making the Grizzly G1023RL one of the smoothest cutting machines on the market.
After taking into account that ever-so-important versatility factor, extra large hand wheels really make easing and adjusting that arbor movement.
The super-solid cast iron table top has plenty of room to cut at any angle you could imagine, capable of giving you an impressive cut depth of 90 degrees, and can even extend outwards to get bigger when necessary.
Still packed with power, this one piece steel cabinet table saw design has 3 horsepower behind it, giving you enough power to carve through any material with ease.
This is one of the best table saw brands and a product that seems to be universally loved by its buyers. The Grizzly G1023Rl table saw's versatility, stability and cutting power when you need it most is what sets it over the edge from a few other models.
See Best Deal:
Our first entry from Hitachi on this list so far, the saw speaks for itself in terms of features and functionality.
Let's start with how much power this table saw has.
Packing a massive 15 amps and a motor capable of giving you 4,500 RPM even after repeated use on the hardest, toughest materials.
That 10-inch, 40-tooth blade will hold up when you put it to continuous work, trust me. It might even do some good and increase your cutting capacity.
Speaking of your cutting capacity with the Hitachi C10RF Table Saw, the adjustable bevel range for this saw is between 0 and 45 degrees, ranging from 3-inch to 2 ¼ inch.
Both the bevel scale and height can be adjusted with knobs on the front of the saw's cabinet, giving you easy access and view of them when you need it most.
If you're looking to take on bigger materials, the table has a telescopic extension to give you a max of 35 inches of ripping potential to the right and 22 inches to the left.
It even features a rear outfeed system that helps cut larger material with ease.
No matter what size material you need cut, this is a great option for you.
In case you need to stop cutting for any reason, you can use the electric brake to stop that blade in seconds. Getting a table saw that's safe is essential for the job site or workplace.
Along with its super sturdy legs that can be set up and broken down, it's super easy to keep it as stable as possible while in use.
It also boasts some highly durable wheels to give it access to portions of the job site other table saws might not be able to go.
While the Hitachi C10RF Table Saw does only come in at 3.5 stars, which might seem low when compared to others on this list, you need to look deeper into those reviews to get the full picture.
Almost half of those table saw reviews were 5 stars, while the rest was scattered across four other categories.
Most customers who purchased and used this table saw were thrilled with their results.
See Best Deal:
If you're looking for a table saw made for ripping strong and heavy wood materials, the SKILSAW SPT70WT-01 is a good option to consider in this table saw review.
Equipped with SKILSAW's state-of-the-art Worm Drive gearing designed to provide incredible amounts of torque and power for ripping through anything you put in front of it without even slowing down a bit.
The SKILSAW SPT70WT-01 offers best in class technology like a 15 amp dual-field motor that keeps cool after long-continuous cuts over long periods of time.
You can easily rip through whole sheets of plywood without missing a beat, giving you 25 inches of rip capacity and 3 ½ inches of depth on the cut.
To make sure those cuts are accurate, the saw comes with a self-aligning rip fence and easily adjustable 1 to 45-degree bevel to give you the truest possible cut you could imagine.
The SKILSAW SPT70WT-01 24-tooth carbide-tipped blade that can handle all of the cutting you need for any project, anywhere, anytime.
Being a state-of-the-art piece of tech, it also comes equipped with a miter gauge, anti-kickback device, insert plate and push stick.
In terms of reviews, the SKILSAW SPT70WT-01 knocks it out of the park.
It's safe to call this one of the best table saws on this list.
See Best Deal:
Last but certainly not least on our list is the Rockwell Bladerunner X2 table saw, a device built with portability and cutting power in mind.
Able to be set up in seconds to tear through wood, metal, tile or whatever else is thrown in front of it, this compact table saw is just as powerful as it is versatile and portable.
At just about 15 pounds, this can easily go to anywhere job site anywhere without much hassle at all.
Featuring a hold-down guard for splitter cuts on wider materials and a super large rip fence for you to better control for a nice, accurate cut, the Rockwell Bladerunner X2 is an absolute workhorse on any job site, for any project.
As user-friendly as it is built for power, portability and precision, you can easily make tool-free blade changes in just about 3 seconds. It's also compatible with most jigsaw blades, making replacements super quick and easy to find.
It can also be used hands-free most of the time, giving you added freedoms on the job site than with other table saws.
Along with extra features like a vacuum port, huge steel rip fence and miter gauge, the Rockwell Bladerunner X2 has all of the features of its competitors with the added bonus of being incredibly light and portable.
It even comes along with a three-year warranty, meaning you won't have to worry about your saw breaking or wearing out on you from using it on every job you do.
The majority of customers who pick up the Rockwell Bladerunner X2 are in love with their newest hybrid table saw.
Which Kind of Table Saws Are Reviewed Here?
These days many carpenters and woodworkers, pros and hobbyists alike, are finding that it isn't always necessary to buy a large table saw that you bolt down to a hefty stand or workbench.
In recent years, manufacturers have been upgrading the power, stability and extendability of smaller, portable table saws.
In fact, these types have been outselling the traditional monsters your dad or grandfather once used.
A review of table saws then needs to include this rising (and adequate) class. It's a bit like laptops in the computer world. Years ago, if you wanted power and performance for demanding work, you needed a desktop.
Today, "portable" PCs are just as powerful and able as their bigger brothers for most applications.
A review of portable table saws reveals the same phenomenon. And just like a laptop, there are a range of levels to choose from – starting with the proverbial "cheap" grade on up to the more expensive industrial types.
These products are for anyone looking to invest in a saw they can keep and depend on for many years and of course, without having to spend thousands of dollars (or even a thousand dollars).
So for example, if you plan to own your home for 20 or more years, then any table saws here would all be there with you and beyond.
[This post contains affiliate links and I will be compensated if you make a purchase after clicking on my links.]